Whether you're interested in learning to create a website or want to start a blog without having to learn HTML or other coding languages, you may want to consider using a website builder that makes use of a WYSIWYG editor.
There are various benefits associated with using WYSIWYG website builders. You have control over what your website looks like, and you don't have to pay a professional to handle the coding for you.
There are also a number of web hosts that have their own built-in editors, meaning you can create your website and publish it to the web immediately. But what exactly is a WYSIWYG editor and why would you need one? Let's explore this, as well as some of the best out there today.
Contents
Best WYSIWYG – Drag And Drop Website Builders
What is a WYSIWYG Web Builder?
A WYSIWYG website builder is the epitome of simplicity. There's no better way to explain what these tools are than to look at the acronym. What you see truly is what you get.
Great for freelancers and small business owners, these tools allow you to take the reins of web development without having any coding knowledge. Modern websites are complex and intricate. Even WordPress and simple blogging platforms require in-depth coding knowledge to take full advantage of.
The best WYSIWYG web builders throw all of those requirements out the window. Instead of long lines of codes, you'll utilize a user-friendly platform and a drag and drop interface. These builders are like a blend between the back-of-house and front-of-house. You can view changes in real-time and see what your end-user sees. However, you also get the flexibility of having complete control over the design.
Many builders utilize customizable templates that follow basic website design principles. For example, you can choose from one of many online store sites or landing pages to get started. To make the business website your own, you're free to manipulate the finer details to your liking. From the navigation buttons to animations and fonts, everything can be changed with a simple click.
All of the coding changes happen behind the scenes. You don't have to fiddle with a single line of code or hire someone to do it for you. These builders cut to the chase and offer a streamlined way to create stunning sites your way.
The design interface is akin to a word processing app. If you know your way around basic web design, you'll have no problem creating beautiful websites that look custom-made.
Why Use One?
Free website builder programs are nothing new. In fact, you may gain access to one after signing up with a hosting provider or domain name registrar. So, why turn to dedicated WYSIWYG builders at all?
In addition to being foolproof and accessible to anyone regardless of coding knowledge, choosing the best website builder can provide a slew of benefits.
Fast Turnaround
One of the most overlooked perks of a WYSIWYG builder is time. Building a professional website is a time-consuming process! Large-scale web projects can take months to launch. If you're on a time crunch, waiting weeks or months to get your site up and running is out of the question.
A WYSIWYG builder lets you get a responsive site in only a fraction of the time. The most significant time-wasting element is coding, and all of that is handled automatically behind the scenes. All you have to worry about is dedicating time to get the design right.
Cost Efficiency
Because WYSIWG builders are so quick and easy to use, you can save tons of money. Pricing can vary from one builder to the next. But, they're generally far more affordable than hiring a dedicated coding team.
You can save money in staffing, billable hours, and more.
Long-Term Flexibility
Another notable benefit is long-term flexibility. No matter what kind of site you run, regular updates are a must. With standard web development, updating a web space can be a long and arduous process. It's expensive, and you have to go through many hoops to publish the final product.
With a WYSIWYG web builder, making changes is as simple as playing with the drag and drop editor. Chances occur instantaneously, allowing you to update regularly without all of the unnecessary hurdles.
Real-Time Testing
Speaking of quick and easy updates, the best WYSIWYG website builders help you perform real-time testing. These building tools let you see what your visitors see. The interface relies on visuals, so you get to see updates as they happen. There's no need to turn to separate site-staging programs or processors. Again: What you see is what you get!
Open-Source Availability
Finally, many WYSIWYG website builders are open source. That's not the case with all platforms. However, most of them give you access to the source code.
This is beneficial because it allows you to take your site elsewhere if you ever need more in-depth editing. Say, for example, that you want to migrate to a different hosting company. Maybe your site has grown beyond so much that you want to hand the controls to a traditional developer. Whatever the case may be, you can use the open-source code to continue development in a way that suits your needs.
Potential Limitations
Drag and drop website builders have a lot to offer. In most cases, they're more than enough to serve a business website, online store, and blog. However, they do have their limitations.
Like anything that utilizes templates as a backbone, WYSIWYG can feel a little redundant. This is especially true with low-cost templates or those available with free plans. Tons of people are trying to use those templates, so you lose a bit of uniqueness. Even with customization, the same basic templates can appear all over the web!
Another potential issue is overall flexibility. WYSIWYG tools are pretty adaptable, but they can't match the unbridled customizability of sites coded from scratch. You may run into size restrictions for photos, compatibility issues with plugins, and more.
Ultimately, the platform's versatility depends entirely on the template and the capabilities of the builder itself. However, don't expect to get complete creative freedom. Some limitations are to be expected.
THE BEST WYSIWYG (What You See Is What You Get) WEBSITE BUILDERS

One of the most popular web building platforms featuring a WYSIWYG editor, Wix is used by many businesses as well as individuals to create websites.
Along with allowing you access to their easy-to-use editor, they also offer users a number of templates. If you're not sure what you want your site to look like or don't want to start from scratch, templates can be a huge time saver. There are a number of social media and contact features that are built-in to their templates. You can also easily set up and manage comments, reviews and blogs on your site.
Check out the latest Wix website costs and pricing options to find the perfect plan for your website today!
Pros:
You're allowed to start from scratch or modify existing templates.
It's easy to add a variety of elements, such as forms, social media buttons and media.
You can add your own HTML code.
Drag and drop website building functionality.
There's a lot of freedom on where you can place objects, such as text or images.
Cons:
Not all templates are free, and some require monthly subscription fees.
Sites aren't entirely responsive, so they won't necessarily fit all screens.
Statistics about your site aren't collected by Wix, but you can use Google Analytics and similar systems.
Features:
Hundreds of template choices.
There are free and paid options hosting options.
You have the ability to design sites that work on both desktops and mobile devices.
Built-in photo editing and enhancement tools are available.
Read Our Wix.com Review

A very popular option for people looking for a site builder with their own WYSIWYG editor, Weebly caters to businesses. One of the things that makes Weebly so popular is that it's a drag and drop system. You're allotted unlimited storage space, but the number of pages that you have is based on how much you pay each month. There is a business account option that will give you unlimited product pages as well as automatically calculate shipping for you if you plan on selling things online.
Wondering what kind of websites you can create with Weebly?
Take a look at our selection of Weebly example sites for inspiration.
Pros:
Edits are auto-saved, so you don't have to worry about losing changes.
You can download your site code, so if you want to move servers, it's not a big deal.
Both free and paid options are available.
You have a huge selection of apps available to you through the App Center.
Cons:
There's no undo option.
You can only sell things from your site if you have a paid account.
Even if you've uploaded an image, you have to upload it again every time you want to use it on your site in another location.
Features:
The ability to create responsive websites that work on essentially all screens.
Dozens of templates.
You have the ability to add a range of elements to your page, including video, polls, forums and forms.
Read Our Weebly.com Review
Shopify


Designed as a solution for people who are interested in eCommerce platforms, Shopify offers a range of tools for online business owners. Although they have a WYSIWYG editor and a number of stellar templates for business owners, web design is just one part of what they offer. In addition to web building tools, the host also provides everything someone would need to set up an online shop, including the ability to accept payments, to set different payment methods and to even create and accept gift cards.
I've created a tutorial on how to build a Shopify store.
Pros:
The system allows you to create templates for everything from shipping labels to business cards.
You have an unlimited number of product pages no matter what level of hosting you have.
They have an incredible selection of professional looking templates, and many are free.
Cons:
A percentage of your sales are taken if you don't use Shopify's payment system.
There is no unpaid option, but there are 14-day free trials.
You don't have access to an HTML editor with the basic plan.
Features:
You can use your Shopify payment system to accept payments in brick and mortar stores.
Staff member accounts can be created, so more than one person has a login and access to your site.
Read My SHOPIFY.com Review
Go To SHOPIFY.com
Squarespace

With Squarespace, you have the ability to create a gorgeous site with their WYSIWYG editor, but you're more restricted than you are with other site builders. What you lose out in editorial freedom, you gain back in the features that are available on sites made with Squarespace's editor. As with many other similar hosts, you'll need to pay more to get more than a few product pages. However, there's a very affordable option that gives you unlimited pages, storage space and bandwidth.
Pros:
– You get a free SSL certificate.
– Works with Apple Pay and Stripe.
– More than one template can be used on your site.
– An Adobe Image Editor is built into the WYSIWYG editor.
– You can put in your own custom HTML code.
Cons:
– You're fairly restricted when it comes to editing templates.
– Customization of mobile sites is also limited.
– There's no free option.
– There's a transaction fee of two or three percent depending on your package.
Features:
The ability to create fully responsive sites that work on desktops and mobile devices.
Digital downloads are available through sites designed with Squarespace.
Data can be pulled from social media sites.
SiteBuilder.com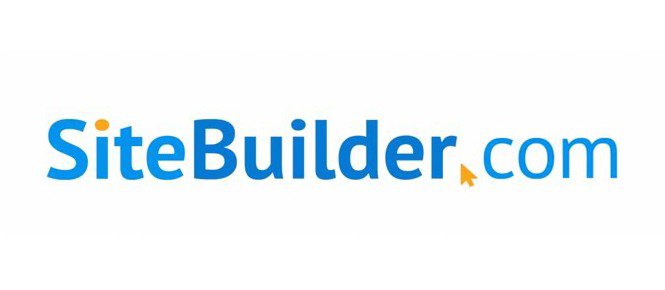 SiteBuilder.com is another website building platform that features a WYSIWYG editor that allows you to drag and drop elements into your site. You've got access to an enormous number of templates, fonts and backgrounds, and you're able to make sites work on just about any screen thanks to a responsive framework. There are a number of site widgets that can easily be incorporated into your design, including contact forms, click to call buttons that work on mobile phones and maps.
Pros:
– Developer mode allows you to edit your site's HTML and CSS code.
– The WYSIWYG editor has a built-in image editor that allows you to make basic changes to your images.
– Works with a number of payment providers, including Stripe, PayPal and Authorize.net.
– Even free accounts are allowed to make online sales.
Cons:
– It's basically impossible to move your site to another host.
– You're not able to switch layouts after you've started working on your site.
– Instead of using HTML, the site uses its own proprietary markup language.
Features:
– The ability to design your own widgets for your site.
– Offers unlimited pages and bandwidth even for free accounts.
– You have access to a free stock photography collection.
– An eCommerce Store Control Panel allows you to easily manage a number of settings related to sales.
Read My SITEBUILDER.com Review
Go To SITEBUILDER.COM


Like many other web hosts that offer WYSIWYG editors to create business sites, BigCommerce offers a range of templates that are designed to work for specific industries and stores. They also offer a number of features that make it easy for you to sell online, including one-page checkout, extensive analytic tracking and the ability to integrate a number of apps from their app store.
Pros:
– Unlimited space and pages no matter which hosting plan you chose.
– There are no transaction fees.
– Websites created through BigCommerce are responsive, so they'll work on most or all screens.
– The system works with Apple Pay.
Cons:
– Refunds aren't available.
– There are a number of free themes available, but many look basic, so you may end up having to spend a significant amount of money for one that looks professional.
– If you use a lot of apps, your monthly bill can get pretty expensive even with a low-level plan.
Features:
You have the ability to easily cross post your product pages to major sales websites like eBay and Amazon.
Gift cards and discounts can be set up through your site.
An abandoned cart saver feature attempts to get people to return to your site to complete a purchase.
Read My BIGCOMMERCE.com Review
Go To BIGCOMMERCE.com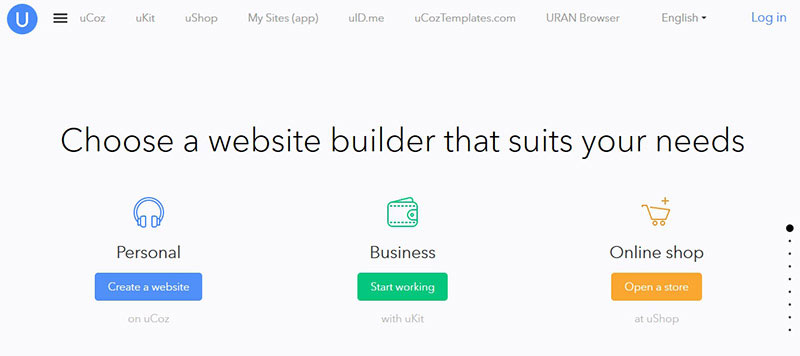 If you're interested in a web hosting with a WYSIWYG builder that's very easy to use, uCOZ might be a good solution. The downside of the host is that, while it's quick and easy to get started with, you're fairly limited in how you can change templates and where you can stick elements. That said, there are a number of built-in options that you can set up for your site, including forums, photo albums and a blog.
Pros:
They offer a free version of the site with 400 megabytes of storage space.
Https connections are available with all paid plans.
Along with numerous templates, there are a variety of paid apps and add-ons that you can implement on your site.
Videos can be added to your site, but you have to link to YouTube videos.
Cons:
To be able to use mobile templates or PHP, you need to pay for at least a second-tier hosting plan.
Backups are available, but they may occur on a regular basis instead of as soon as changes are made to your site depending on your hosting plan.
Data tracking isn't available.
Features:
A variety of free and paid business specific themes.
You can create an account in seconds by logging in through a social media site like Facebook or Twitter.

Strikingly is a web host that makes it very easy for you to design and build a website, but you're also fairly limited in what you can do with your site. One of the reasons that it's so quick and easy to set up a site on Strikingly is that you're not able to create multiple product pages. Instead, you create sites that have multiple parts to them that you can see as you scroll down the page. This makes things simpler, but you lose a lot of control over how your site looks with this type of layout.
Pros:
With the right hosting plan, you can add your own HTML, CSS and JavaScript code to your account.
The site works with PayPal.
Once you upload an image, you can use it in multiple parts of your site without having to upload it repeatedly.
Cons:
– You're limited in what you can do without a pro account, even if you have a lower-level paid account.
– Unless you opt for a top-level hosting plan, you're still going to have Strikingly branding on your site.
– Using the template editor and switching between sections of a page can be cumbersome.
Features:
24/7 support is available.
There are a number of popular apps that you can easily integrate into your site, including Facebook Comment, TypeForm messaging and Pinterest.

Like many other WYSIWYG editors from web hosts, IM Creator uses drag and drop to make it fairly simple to create an eCommerce website. The way that IM Creator works is a little bit different than standard web design. Instead of having individual pages for products, information about your company and the like, the idea is to create one long page with a menu on the left that people can use to navigate to parts of the page that are relevant to them. This streamlines page creation, but it can take a bit of getting used to if you're not used to it.
Pros:
– Offers a free version of their services.
– Sites built on IM Creator are responsive.
– It's easy to incorporate SEO into your site's design.
– Premium accounts are available, and the host offers free premium accounts to students and non-profits.
Cons:
– The Lego Block system of building sections on top of each other in a long web page can be annoying to some individuals who are more used to standard web design or layouts.
– Elements in a page can be edited, but you're not able to move them or change their order.
Features:
Their free version comes with unlimited hosting and bandwidth.
They have their own sales system, ShopRocket, which means that it's easy to set up in-store sales. A new XPRS system allows you to manage your websites from a mobile device.
Jimdo
Jimdo is a feature-rich website builder with several tools you can use to your advantage. It caters to small businesses and sole proprietors. Instead of outsourcing website services, you can handle it all yourself.
Some of the more complex website tasks are done quickly and efficiently. Not only do you have access to a g and drop builder, but you can also create a logo and generate legal text without having to pay for third-party services.
Jimdo even has an AI-powered setup wizard. It walks you through the setup process and pulls copyright-free content for you to use. You can even connect to social media to get personalized content in minutes.
Pros:
The paid plans come with a free domain name during the first year.
You have multiple plan options to choose from.
The user interface is fast, efficient, and easy to use.
Many templates have built-in mobile optimization.
There are hundreds of modern website templates.
The intuitive setup wizard helps you find appropriate photos and layout elements.
Cons:
The builder is best for smaller online stores only.
There are no members-only areas, newsletter features, or monetization systems.
The builder has no backup and restorative systems.
The customer support team is only available through email.
Features:
It includes access to a dedicated mobile website editor.
It comes with the ability to generate legal text.
The builder includes access to a logo creator.
Simple social media integration is built right in.
Utilizes artificial intelligence to quickly customize website design.
Mobirise
If you prefer the element-based editing of word processors, Mobirise is worth checking out. This WYSIWYG website builder uses a block-based interface. There are over 4,000 blocks to add to your site. Select them from the easy-to-navigate menu system, drag them where you want, and start customizing!
As you would expect, there are hundreds of themes and styles to check out.
To add even more uniqueness to your site, you can use the available site extensions. The extensions let you add features that improve engagement and interactivity. For example, you can use PayPal-compatible shopping carts, popup creators, and more.
Pros:
Simple drag and drop builder interface.
It comes with access to interactive website extensions.
You also get simple SEO integration.
Super-easy inline editing.
You can preview mobile and desktop sites with a simple click.
Free for both personal and commercial use.
Cons:
Not as feature-rich as some other WYSIWYG builders.
It doesn't come with a custom domain or hosting service.
The builder can be complicated to establish hosting and go live.
The more advanced features cost extra.
Features:
It utilizes a block-based building system.
The service comes with over 4,000 customizable website elements.
Available for both Windows and Mac
Site123
Site123 is all about giving you the power to create a website in minutes. As you can guess from the platform's name, it only takes three easy steps.
The first is to pick out a template. Site123 offers a wide array of templates to get you started. They're relatively simple and lack the customization options that many builders offer. However, they can serve small businesses and bloggers well.
After choosing a template, you're free to add content and customize individual elements as you see fit. Site123 has many site-specific features to help you create a domain that your visitors will enjoy. From members-only areas with password protection to contact forms that promote conversions, Site123 has many possibilities.
Pros:
There are multiple service tiers available, including a free plan.
Unique elements like contact forms, members' areas, and newsletter tools are available.
The paid plans come with a free domain for a year.
The platform works with many popular plugins.
Cons:
The available templates don't offer the most creative freedom.
You can't add external code via HTML.
It has limited widget compatibility.
Features:
Publishing a site is as easy as following a three-step process.
Simple multi-language management.
Customer support is available through live chat and email.
Tilda
Tilda is a modern WYSIWYG builder that's dripping in style. The builder is best for landing pages and long-read sites. However, some customizable features are available to those looking to create online stores.
Landing pages are where Tilda shines most. The platform comes with a slew of elements that are purpose-built to increase engagement and optimize conversion rates. From lead capture forms to feedback features, Tilda has it all.
When it comes to design, modern aesthetics are the name of the game. This builder uses block-based elements. Hundreds of pre-designed blocks let you create your site from the ground up. Meanwhile, those with more extensive coding knowledge can craft blocks from scratch for ultimate creative freedom.
Pros:
All designs and elements are optimized for mobile devices.
You have the choice to create block elements from scratch.
It prioritizes sleek aesthetics, modern design, and captivating typography.
Builder includes optimized landing page elements.
Suitable for eCommerce sites.
Cons:
It may be too complex for those that don't understand web design.
The builder lacks niche tools.
Some design features are limited.
Features:
The builder utilizes a block-based building system.
Over 550 customizable elements are available.
There are free, Personal, and Business plans.
Available source code export tool.
UCraft
Above all else, it's evident that UCraft puts design at the forefront of your website-building endeavors. The available templates are gorgeous and well-made. They follow modern design principles to help you create a site that caters to today's image-focused web users. Photos and artwork look especially grand. Whether you're an artist looking to build a digital gallery or a small business with hundreds of products to highlight, UCraft is the builder for you.
Like most QYSIQYG builders, UCraft relies on a drag and drop interface. It's a little more complicated than other editors, so it pays to have some basic coding knowledge. The good news, however, is that the builder plays well with third-party integrations. Customize your site with integrations you use every day.
Pros:
You can choose from three paid plans or a limited free plan.
All plans come with free Google Cloud hosting.
It comes with customizable website elements for online stores, blogs, and more.
The builder includes access to several third-party integrations.
Free security analytics.
Cons:
Some drag and drop features are more complex than most would expect.
Not as feature-rich as other well-known WYSIWYG builders.
The builder might not serve complex interactive sites well.
Features:
It includes the ability to create e-Commerce sites.
It provides access to simple payment systems, fulfillment services, and more.
Integrations for Messenger, Mailchimp, Google Analytics, and more.
Webnode
Webnode has been around since 2008 and continues to be the go-to business owners and bloggers worldwide. The interface is super clean and easy to use. As you would expect from a WYSIWYG website creator, you don't need any coding knowledge at all to take full advantage of what the platform has to offer.
The service caters to many website styles. Not only do you have hundreds of premade templates to work with, but you also have access to many integrations and plugins. The builder is flexible enough to create stores, simple blogs, and interactive business sites.
Whatever the case may be, the service comes with access to more advanced features as well. These include built-in analytics, email systems, and more.
Pros:
Multiple paid plans are available.
The builder has hundreds of adaptable designs.
The platform includes eCommerce support and a wide range of plugins.
It comes with solid email and domain features.
Backup and restore features are available.
Cons:
You can't tweak source code for full customization.
The core service is missing some features you get with competitors.
Features:
The builder has robust multilingual support.
It includes access to an editor you can use on smartphones and tablets.
You can create a website for free without a credit card.
It provides access to a media and content manager.
Paid plans come with widget and analytics integration.
The following two tabs change content below.
Jamie Spencer
My name is Jamie Spencer and I have spent the past 10 years building money making blogs. After growing tired of the 9-5, commuting and never seeing my family I decided that I wanted to make some changes and launched my first blog. Since then I have launched lots of successful niche blogs and after selling my survivalist blog I decided to teach other people how to do the same.
Latest posts by Jamie Spencer (see all)